Semiautomatic palletizer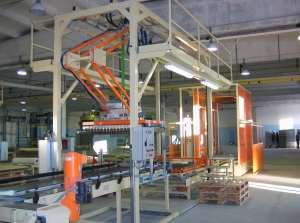 ---
     SAP type palletizer is a device enabling palletization or depalletization of goods with circular or angular shape, however, only with a stacker. The alternatives of use for palletization or depalletization are identical to the automatic palletizer. All types of palletizer heads can be adjusted to the format change of the produced assortment.
The equipment operates semi automatically. Its usage is especially in the production line for packing goods.   
From the point of control the palletizer is able to work totally independently or it can be integrated into the common control of the whole production line.
 Requirements for the connection: electric power (400V), pressure air for the all-purpose take away head with grabs and vacuum for the vacuum or hose take away head.
The palletizer can be attended by one member of the operating staff.
Semiautomatic palletizer of SAP 2.2 type commonly consists of:      
Stacker with lining bar
Roller conveyor VD1800
Aligning bar for pallet manipulation 1200x1000 and 1200x800
Offered types of heads: grab, vacuum or hose
Pantograph
Electric installation – control system Siemens