Palletizers
Equipment designed for fully or semi automated taking goods away from the production lines and storing it on pallets according to the required palletizing scheme.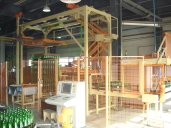 The equipment is designed for palletization or depalletization of layers of goods with circular or angular shape and the diameter min. 40mm up to max. 200mm, with the weight of separate products reaching up to 1,2kg. It is possible to palletize a layer of goods on the pallets sized 1200 x 1000mm, EU standard… More...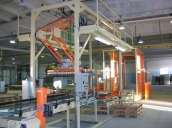 SAP type palletizer is a device enabling palletization or depalletization of goods with circular or angular shape, however, only with a stacker. The alternatives of use for palletization or depalletization are identical to the automatic palletizer. All types of palletizer heads can be adjusted to the format… More...