Pallet dispenser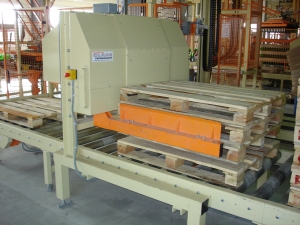 ---
     The pallet dispenser is a machine determined for use in the palletization or depalletization systems to create a pallet supply.
The pallet dispenser can either take away the empty pallets from the stack and pass it to the palletization system or take away the separate empty pallets from the palletization system and stack it. The dispenser can combine both functions. Its control depends on the system in which it is integrated.
The foundation of the dispenser is the roller conveyor. There is the lifting and restraint mechanism attached to it. The drive of the roller conveyor is secured with electric gear, the drive of the restraint mechanism is pneumatic. The machine has its own control but after integration into the palletization or depalletization system it is necessary to create a way of communication. For its function the machine requires electric energy and pressure air.
The dispenser works automatically. It requires operating staff who are bringing a stack of pallets when palleting and taking the stack of pallets when depalleting. The mechanical terminal switch on the VC switching roller is scanning the terminal position of the pallet (from the front end VC) and its presence on the VC.
We recommend to enqueue roller conveyor VC 1600 that will create another stack of pallets and enable better forklift transport service.