Cullet conveyor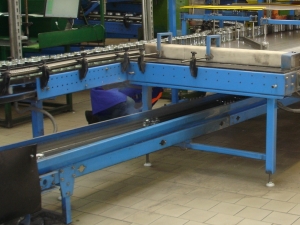 ---
    The cullet conveyor is determined for the horizontal or inclined transport of lumpy material. For example in the glass-making industry it can be used for the transport of waste or cullet for recycling.
The conveyer has a unit construction. Based on the length the conveyor is driven by one or two electric driving drums. The reciprocating section is fitted with a drum with tensioning. The PVC conveyor belting can be used in a few layers sandwiched with fabric. The cullet conveyor construction enables the usage of the continuous belt. The belt is conjoined by hot gluing and thanks to this technology the joint is slick. All chutes or hoppers fall on the conveyor. They are not its component. The conveyor can either be positioned in the construction of the last touch conveyor system or it can stand on surmounted legs.
One of the realization options can be the reverse conveyer fitted with two electric driving drums.